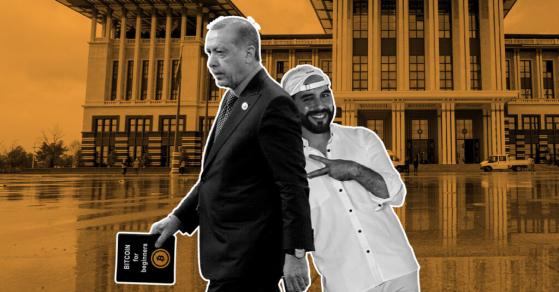 El Salvador's leader and Bitcoin advocate Nayib Bukele traveled to Ankara, the capital of Turkey, to meet the Turkish President Recep Tayyip Erdogan. The meeting could impact how Turkey's government views cryptocurrencies.
The two countries have had very different stances on cryptocurrencies: last year, El Salvador adopted Bitcoin as a national currency, while Turkey banned crypto payments.
El Salvador is planning to raise $1 billion in Bitcoin bonds this year, and according to WSJ, "analysts expect Mr. Bukele to advocate for the use of crypto during the meeting, which comes during a period of turbulence in the Turkish economy."
Turkey currently suffers from inflation and currency crisis. The Turkish lira lost 40% of its value against the dollar in the past year marking financial instability in the country. This led to Turks becoming highly interested and invested in cryptocurrencies. However, the meeting of Bukele and Erdogan doesn't exclusively involve cryptocurrencies.
"El Salvador has explored opportunities for Turkish firms to invest in El Salvador, specifically in energy and tourism, setting out the advantages of the coastal strategy known as Surf City," the Salvadoran government said in a statement, as reported by Reuters.
The meeting between two country leaders takes place between Thursday and Friday, although Twitter (NYSE:TWTR) users have already been writing rumors about Turkey buying over $152 million worth of Bitcoin.
EMAIL NEWSLETTER
Join to get the flipside of crypto
Upgrade your inbox and get our DailyCoin editors' picks 1x a week delivered straight to your inbox.
[contact-form-7] You can always unsubscribe with just 1 click.