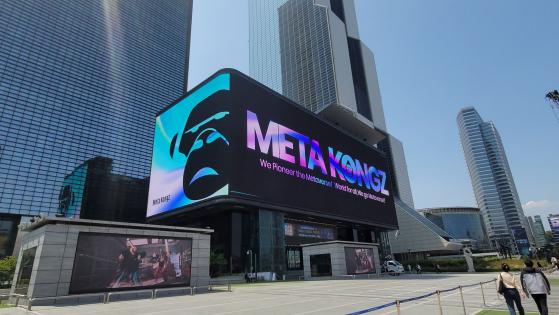 Aiming an arrow towards the sun, Meta Kongz is a Klaytn-based project that comprises unique and randomly generated 3D NFT PFPs. Designed by Kakao—the founders of Korea's most used messenger app, KakaoTalk—Meta Kongz aims to be the next-generation global platform based on blockchain technology and marketing.
Meta Kongz aims to leave a positive mark in the metaverse, and according to the project document, it will open the way for co-existence based on the concept of web 3. Consisting of 10,000 profile picture-styled NFTs, Meta Kongz, since its launch, has gained popularity and interest from enthusiasts worldwide. The reason for this is not far-fetched—it is a genuinely profitable project. NFT holders not only stand a chance of benefiting financially but will enjoy more excellent perks in the metaverse.
While the Klaytn Chain is an advanced enterprise-grade blockchain network, the presence of an existing entry barrier, especially for non-Koreans, presents a considerable downside that cannot be overlooked. This has stalled the further growth of Meta Kongz, hence prompting the decision to propose a switch to Ethereum, a more popular and open network.
The decision to segue into the Ethereum chain came after the recently concluded governance vote. Meta Kongz, a community-based project, allowed members to vote on the proposed plan—migrating to Ethereum.
By migrating to the Ethereum chain, Meta Kongz will hope to leverage the blockchain's popularity to reach and attract a new set of NFT enthusiasts—non-Koreans.
Additionally, this move will solidify the project's stance as one ready for globalization.
Per a recent press release, Meta Kongz has entered an MoU with Shinsegae Group. Currently, the biggest departmental franchise in Korea, the MoU with Meta Kongz will see the latter produce over 10,000 PFP-styled NFTs with real-life utilities. With minting scheduled for June 2022, these NFTs, according to the MoU, will offer offline benefits to holders.
That's not all; Meta Kongz recently partnered with Hyundai—arguably the largest automobile company in Korea. Per the mentioned source, this partnership will see Meta Kongz create thirty exclusive limited-edition NFTs.
Meta Kongz has partnered with various brands like NFT Mania, Innocean Worldwide, KH Group, Terra World, Sandbox, Market It, and other renowned brands and companies.